The Stage Fright Cure



You can be free
of stage fright, performance anxiety or fear of public speaking.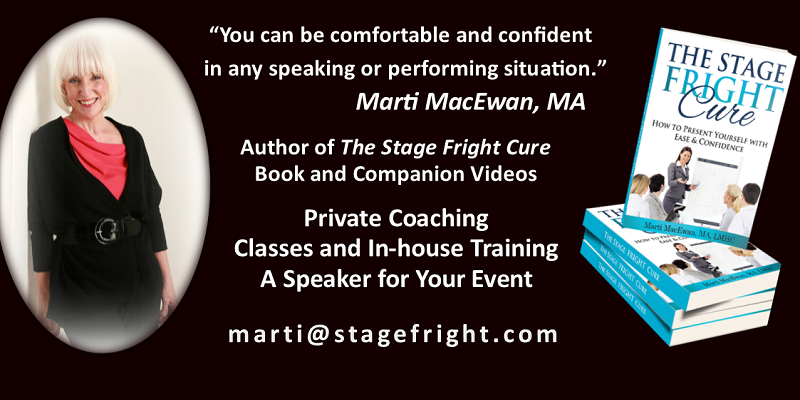 Marti MacEwan is an expert in helping you eliminate – not just manage – your nerves and fear so you can maximize your comfort and positive energy in any performance situation.  Marti offers live in-person coaching in Seattle, or online coaching from anywhere in the US and Canada.
In The Stage Fright Cure book with tutorial videos, Marti explains where stage fright comes from and why you have it – then walks you through the specific steps, including the Rapid Relief Process(tm), that will eliminate the symptoms that interfere with your best performance.
Marti will bring her expertise to your group, whether speaking live in the Greater Seattle area or online as a guest on a podcast or video interview. Marti is energetic, passionate, entertaining and demonstrates the power of her approach. She brings warmth, wisdom and humor to every event.
Hello . . .  Marti MacEwan, here.
I assure you, I know
what stage fright is


what it feels like (I've had it myself)

why

you have it, and most importantly

what to do about it!

After many years of personal and professional experience and observation, I have developed a unique method for overcoming (by that I mean being free of) stage fright and fear of public speaking.
I guarantee you will not find this method anywhere else.
Let me send you my Free Report on The Stage Fright Cure – what it is and why it works.
I will also keep you updated on upcoming events, tips and resources.
You may, of course, unsubscribe at any time.
Here's to Your "Stage Freedom"!
Whether you are concerned about on-stage performing, public speaking, leadership or any other kind of personal or professional performance, contact me personally for
more detailed information
a private complimentary consultation,
a private appointment, live in Seattle or online from the US or Canada,

a guest for your podcast or interview,

a speaker for your event or conference,
a question or comment.
I would be happy to chat about whatever you need.
Send a private message here:
Note:  If you are looking for Marti's services as a voiceover talent, visit
www.martisvoice.com